Frequently Asked Questions for DFS
What sites do you support?
We currently support DraftKings, FanDuel, Yahoo, and FantasyDraft.
What sports do you support?
For DFS, we currently support NFL, MLB, NBA, NHL, and Golf.
How do you create your projections?
We build our projections by feeding more than 12 performance indicators, unique to each sport, into our custom machine learning algorithm which then simulates each game thousands of times, play by play.
For example: The major variables in our baseball model include batters, pitchers (starting pitcher and bullpen), umpire, park, handedness match-up, wind and temperature, and home/away.
This lets us accurately project the average outcome of games, but also gives us the true picture of how player's performance can vary from game to game.
How often do your projections update?
Rather than following a rigid schedule for updates, as the variables in our model change throughout the day and week (things like injury status, lineup news, etc.), we run new simulations and update our projections accordingly.
Do you support Showdowns and Single Game contests?
Yes, we support DraftKings' Showdown contests for NFL, MLB, NBA, and NHL and FanDuel's Single Game contests for NFL. We plan to roll out support for all sites and sports in the near future.
To access these games, simply change the "Style" in the Slate Settings window from "Classic" to "Showdown" or "Single Game."
Here is a short video showing the process: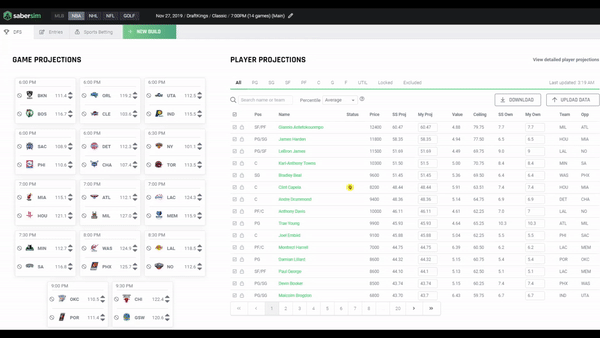 Can I upload my own projections?
Yes, you can upload custom point and ownership projections. To do so, you will need to create a CSV file with the following columns in this order: Name, Projection, Ownership. You can also copy and paste your projections into the template that shows on the upload menu.
Once your projections are ready, you can upload them by clicking "Upload Data" on the home screen.
If you have any problems, please send your CSV file to [email protected] so we can investigate.
What's the difference between Proj Score and Saber Score?
"Proj Score" ranks your lineups based on the total sum of projected points for every player in a lineup.
"Saber Score" quantifies the impact of correlations and ownership on the projected score of a lineup. The higher the Saber Score, the higher the upside potential.
When making our own lineups, we will sort by Saber Score as I want to incorporate that information, but if you just want to consider pure projections, you can sort by "Proj Score."
How do I edit my existing entries?
DraftKings: https://vimeo.com/329409664
FanDuel: https://vimeo.com/329401424
How do I get better results?
We built SaberSim to help you build better lineups, faster—but making money always requires work. To help you improve your game (and results), we've created a constantly expanding library of strategy videos on our YouTube channel.
We've also put together two "ultimate guides" walking through what it takes to beat DFS today:
Those videos will have you well on your way to becoming a winning DFS player.
---
---