Game projections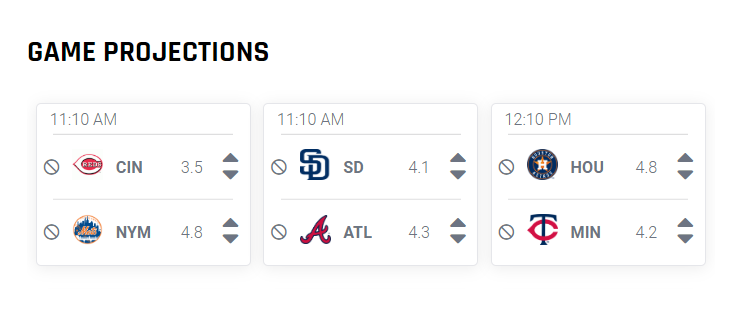 The "Game Projections" section of the DFS Home Screen shows all of the games on the currently selected slate (which can be edited in the Top Navigation) and our simulator's projected score for each team.
This gives you a high-level look at the slate and makes it easier to identify the games to focus your research on.
If you disagree with our projections, you can adjust them using the arrows to the right of the projected score. If you want to exclude a team entirely, you can click the "No" symbol to the left of the Team's logo.
When you are finished making your adjustments, click "Yes" in the dialogue that asks if you want to apply the changes.

Note: Currently, if you exclude a team, the players on that team will still be shown in the Player Projections list, but they will be excluded from your lineup pool.
---
---