Player projections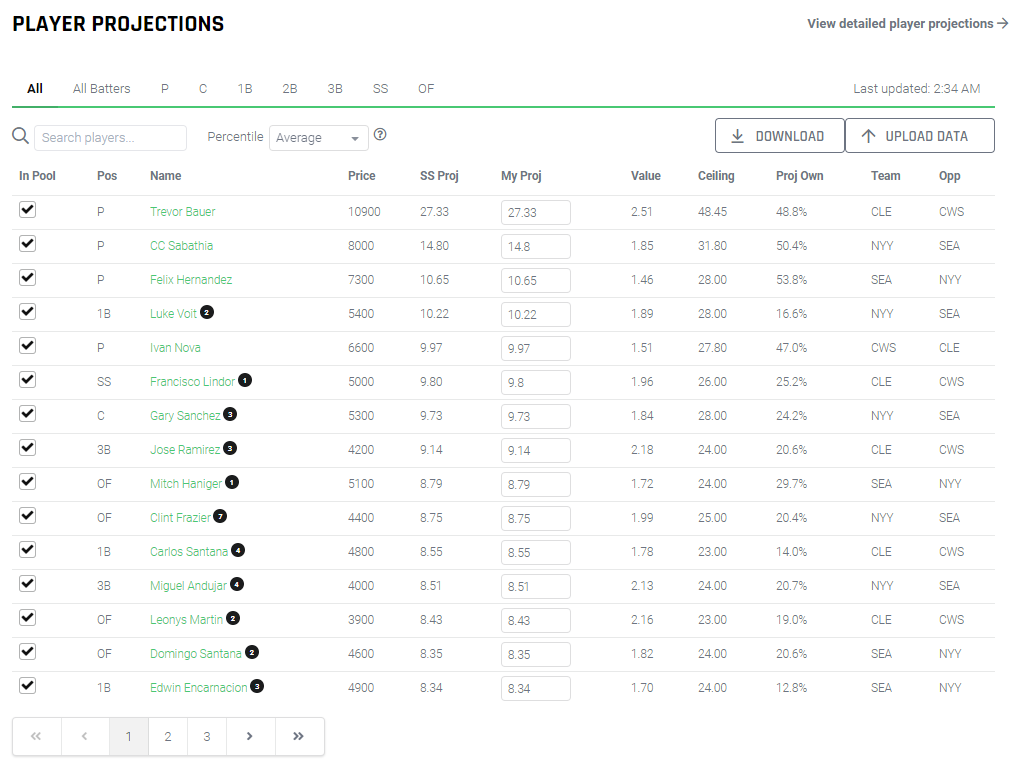 The Player Projections list shows the average projected performance for each individual player based on our simulations as well as a high level look at other important information.
In Pool: Whether or not you want a player to be eligible for your lineups. If you do not want a player in your lineups, simply uncheck them
Pos: A player's position
Name: A player's name
Price: A player's salary cost
SS Proj: The average projected score of a player based on our simulations
My Proj: Adjust our projections by editing them in each field. Reset your edits by clicking the "Undo" arrow to the right of the field (this will only be shown after an edit has been made)
Value: Your projection for a player divided by their salary (in thousands)
Ceiling: A player's 95th Percentile score (read below about Percentiles)
Proj Own: The percent of lineups we expect a player to be in on that slate
Team: The team a player is on
Opp: The team a player is playing against
Percentiles
Percentiles give you control over the range of outcomes used in player projections.
Examples:
A Percentile of 90 ignores the bottom 90% of outcomes, giving you a score players should reach 10% of the time

Default projections are a mean projection which average all simulations of a game and would be equivalent to a Percentile of 0
To get median projections, you would use a Percentile of 50
Distributions and Correlations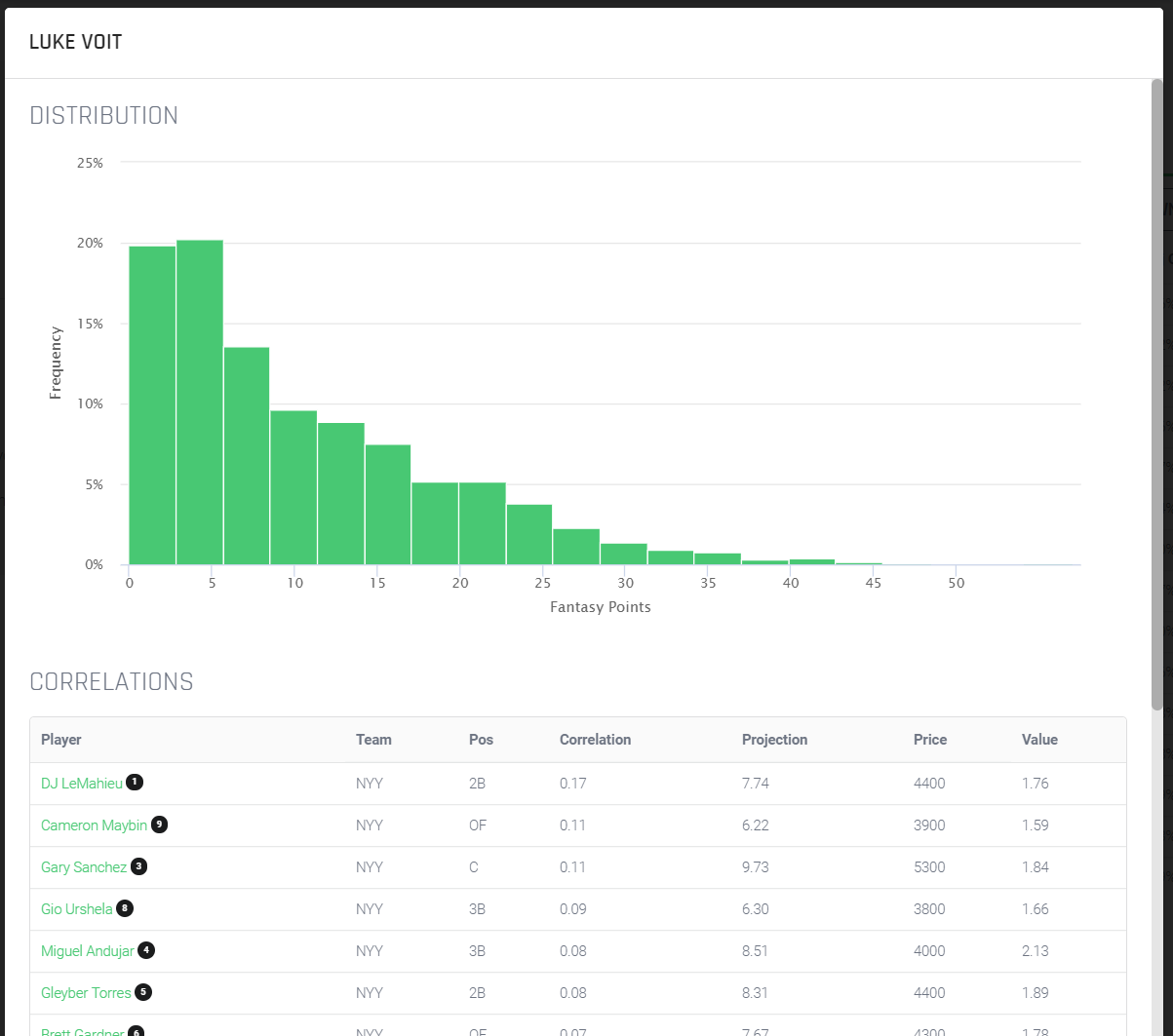 By clicking on a player's name in the Player Projection list, you're able to see their scoring distribution and their correlation values. By simulating every game thousands of times, we're able to give you a unique look at this powerful data.
Projections are the average of all possible outcomes, but using an average doesn't show you the full picture, especially in a high variance sport like baseball. A distribution is simply a visualization of a player's likelihood of achieving different outcomes in an individual game. 
A correlation is the mathematical relationship between two events. Players that are highly correlated are players whose performances have a direct impact on the other. 
Players are positively correlated when one performing well means the other will benefit. For example, a quarterback and wide receiver on the same team or players close to each other in the batting order are positively correlated. The closer in the batting order or the more a quarterback favors that wide receiver, the stronger the relationship.
Players are negatively correlated when one performing well means the other will perform worse. For example, a quarterback and the defense of the opposing team or a batter and the pitcher they are facing.
Uploading and Downloading Projections

Clicking the "Download" button will generate a CSV file containing our projection data which can then be used however you wish.
If you create your own projections, you can import them into SaberSim by creating a CSV file and uploading it using the "Upload Data" button. Two columns are required in your CSV file and they are case sensitive: "Name" and "Projection"
This allows you to combine your projections with our Variance, Correlation, and Ownership Data.
If you are uploading your own projections, we recommend first downloading our projections and deleting the columns other than "Name" and "Projection" so that you can be sure to have all of the players and the format is correct.
Detailed Player Projections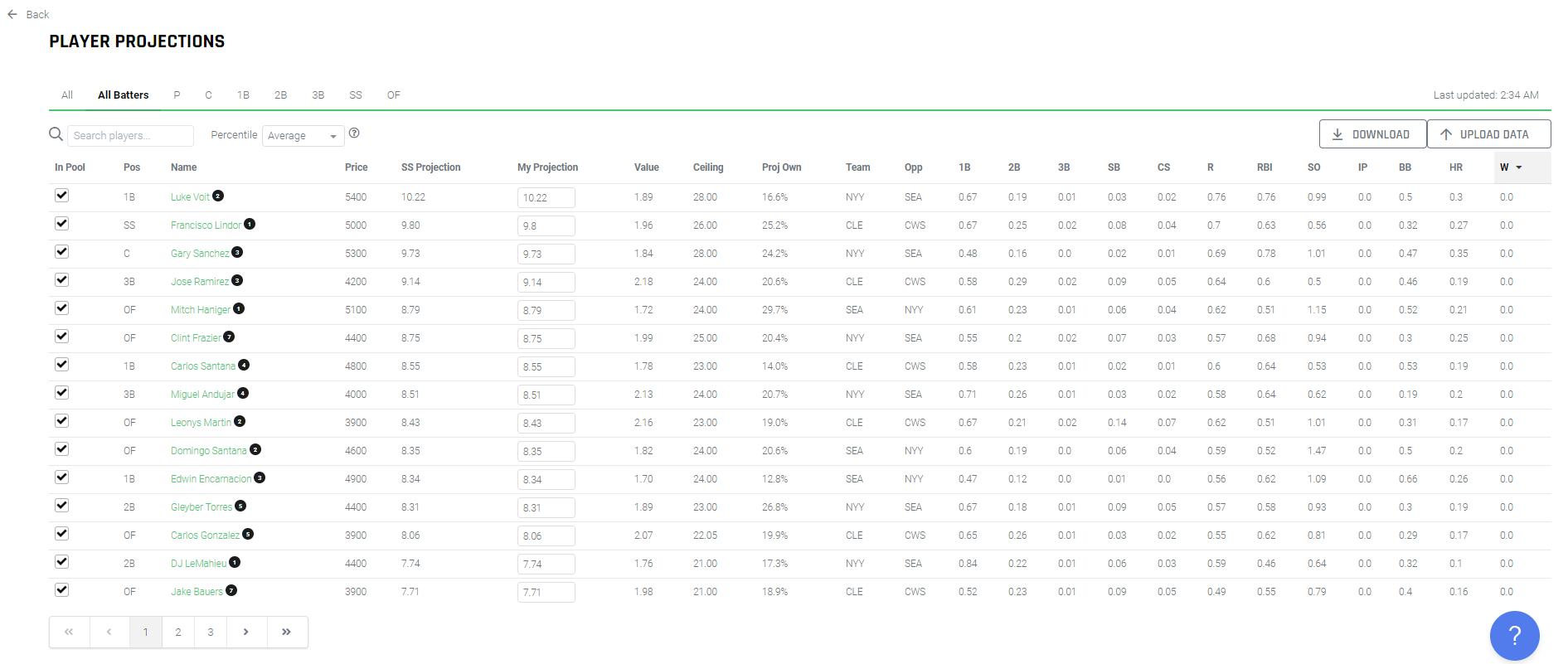 By clicking "View detailed player projections" you get a closer look at the stats involved that make up each projection.
To get back to the main screen, simply click "Back" in the top left corner of the page.
For MLB, these are the additional projected statistics included on that list:
1B: The projected number of singles a batter is projected to get or the number a pitcher is projected to give up 
2B: The projected number of doubles a batter is projected to get or the number a pitcher is projected to give up 
3B: The projected number of triples each batter is projected to get or the number a pitcher is projected to give up 
SB: The projected number of stolen bases for a batter
CS: The project number of times a batter is caught stealing
R: The projected number of runs scores by a batter or scored against a pitcher
RBI: The projected number of runs batted in for a batter
SO: The projected number of times a batter strikes out or times a pitcher strikes out a batter
IP: The projected number of innings pitched for a pitcher
BB: The projected number of times a batter is walked or the number allowed by a pitcher
HR: The projected number of home runs for a batter or the number allowed by a pitcher
W: The likelihood of a pitcher being credited with the win for a game (100% would be shown as 1.00)
---
---