Getting started with SaberSim for betting
Selecting your sport and date

To select your sport, use the tabs at the top left of the navigation menu. To change the date, click the pencil icon and select a new date or week—you can ignore the DFS information shown.
Loading odds from your sportsbook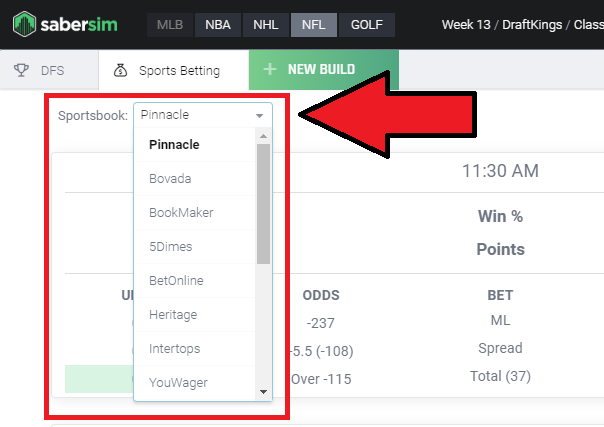 To load the most recent odds from your sportsbook, simply click the dropdown menu labeled "Sportsbook" in the top left of the app and select your book of choice. We currently show odds for Pinnacle, Bovada, BookMaker, 5Dimes, BetOnline, Heritage, Intertops, YouWager, JustBet, SportsBetting, LowVig, Betcris, Bodog, Matchbook, RedZone, and TigerGaming.
Refreshing Projections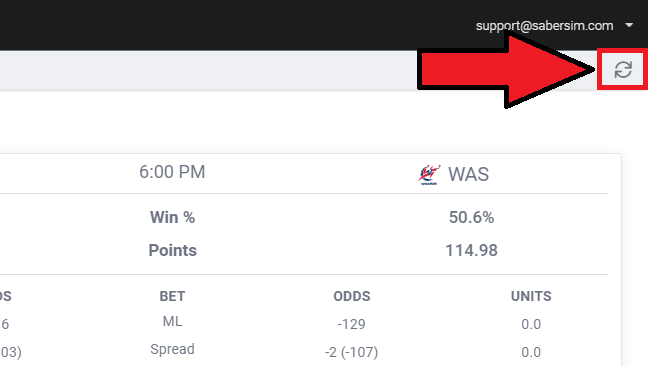 To make sure you have the most up-to-date projections, click the refresh icon in the top right corner of the app before you place your bets.
Interpreting our data

In the Sports Betting screen, you'll see a grid that lists all of the games for that date along with our predictions for them. Here is an overview of what everything means:
Win % - This is the percent we expect each team to outright win the game
Points - This is the number of points we expect each team to score on average
Bet and Odds - This lists the odds your sportsbook is offering for the moneyline, spread, and total (over/under). The total for the game is listed in the "Bet" column. For MLB, we also show these three bets for the first 5-innings.
Units - If we predict a bet to be profitable, then we will show a "unit" size (calculated using the Kelly Criterion) and highlight it green. We consider 1 unit to be 1% of your bankroll, but you can just use your standard bet size as long as it is an amount you are comfortable losing.
---
---